Welcome to Sun Fruits Exports S.A.
Ica Valley, Peru
Origin

Two traditional families from Iquique decided to get involved in the production chain and to plan the exportation of their products from the countryside to the most demanding international markets, thus creating the Sun Fruits Group. These families integrated a modern processing plant for their lands production that would satisfy their own needs, provide services to other producers and contribute to the development of the national fruit growing and agricultural industry.
This growth has allowed to generate new sources of income, directly, to more than 1,000 families, and to contribute not only to the domestic economy but also to access to education and professional training levels.
As result, we have helped small and medium sized agricultural producers to export their product to the most demanding markets, always complying with the highest standards of quality and competitiveness.
Thanks to the trust and loyalty of our customers and suppliers we have managed to consolidate ourselves as a company that is always at the forefront of innovation in the agricultural sector.
All our achievements would not have been possible without our company's main asset, our human resources, to whom we are infinitely grateful for their support and dedication. The partners will continue betting on the consolidation and growth of the company's activities.
Thank you for be part of this endeavor, as the success achieved so far would not have been possible without the proactive participation of all of you.
Sun Fruits Exports S.A. Board of Directors
Our History
Beginning in 2008 with the joint of two agricultural export companies from Ica Valley (Agricola Riachuelo and Agricola Don Luis) and with two producers from Ica as well, who needed to process, pack and export their grapes production by reaching high quality levels and meeting the demands and standards of a very competitive market.
Until then, both companies resorted to different packing plants to process their grapes to be exported, but the capacity of these was saturated by the growth of the industry. At that moment, Sun Fruits become the solution for the producers needs.
Because of the increasing demand in Ica for maquila and cold storage services for exportation, Sun Fruits saw the opportunity to position itself as a service plant for producers in the region, for which it invested in infrastructure and human capital. Today 70% of the volume processed in the plant is dedicated to these export services.
By looking forward to compete equally with the major world producers, it was necessary for us to be at their same level and, as far as possible, exceed the quality of our products and also meet the required standards and certifications by each new market we sought to access.
Sun Fruits today
We are not looking to be the biggest, but the best.
Our agronomic growth focuses on complementing the functionality of our fruit processing plant, having developed counter seasonal agricultural production programs to ensure the operational continuity of our packing and refrigeration infrastructure and consequently the work stability of our employees.
We are an integrated company, from production in countryside and a service plant ensuring control at all stages to obtain quality products until the last delivery to our customers, putting the care and attention needed at each stage to ensure the quality and condition of the delivery.
Sun Fruits is a company created to grow according to the demand of products and services of our customers, both internal and external. We are in constant development in order to cover the expectations that the agricultural companies of several regions within the country have about us for exporting their products. We are also innovating with new varieties of crops to provide the range of products that our clients from different countries need.
For all these reasons, our processing capacity and production increase year after year thanks to the trust of our business partners in Peru and around the world, and to the support to keep working.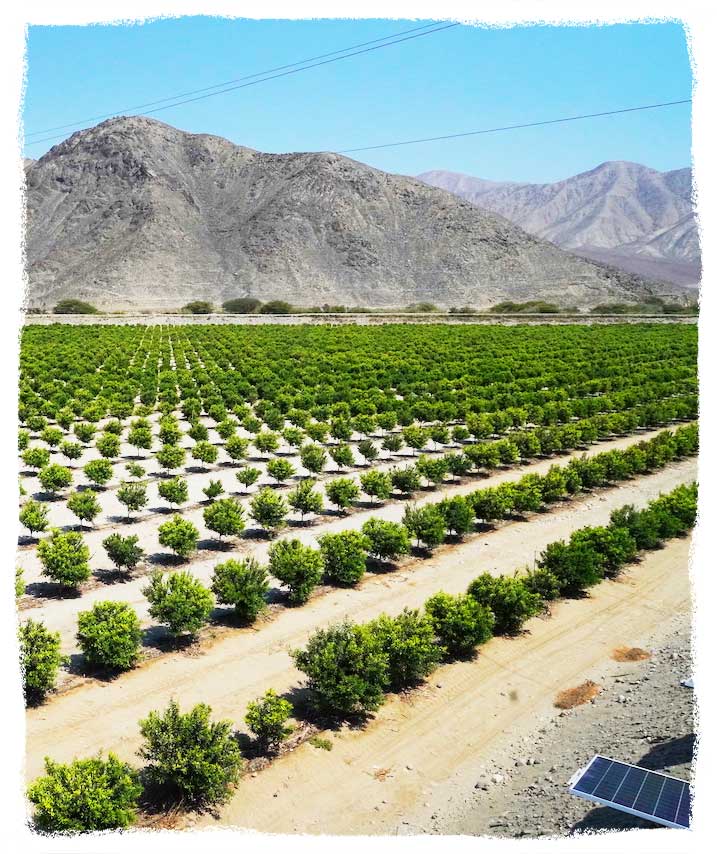 We are convinced that the best strategy for growth and business progress is to bet on the cultivation of values and organizational development of our workers and customers.
For this reason, we are immersed in a process of digital evolution, continuous improvement and together with all our workers, we also assume the commitment, confidence, proactivity and inclusion as part of an organizational culture that is strengthened every day in the exercise of our activities. We are proud to work as a team with the passion that represent us, focusing on results for satisfaction of our customers.
Our purpose
To contribute with quality products and services for a better and healthier world
Vision
Become the most efficient and eco-friendly agricultural export organization by taking care of the environment of the regio and producing, packing and exporting products from the countryside to the most demanding markets and fulfilling with all the technical and quality specifications required by the different consumers and regulatory authorities of quality and condition of the countries where we send our products. For this reason, we manage a program of continuous improvement in all our activities.
Mision
Become a producer, packer and marketer company of a diversity of fruits, perceived as an excellent proposal by the markets to which we export, with a seal that guarantee the quality and excellent conditions of presentation and conservation of our fruits as fresh products.
We develop the principle of search the common good, without neglecting the objective of growing efficiently.
Our Values
In Sun Fruits, we practice the following values:
Investigation and Development
Pleasant working environment
Permanent challenge the Status Quo
Continuous learning and education
Absolute commitment to the environment
Permanent development of our workers
For any question or contact information about Sunfruits